Workshop on "Solutions for financing green energy projects"
2/5/2021 2:38:37 PM
Assoc. Prof. Bui Quang Tuan, Director of VIE, in his opening speech emphasized the inevitability of climate change, which already hit Vietnam and other five economies seriously. 2015 marked Vietnam's ratification of the Paris climate agreement with the goal to limit the global warming to below 2 and around 1.5 degrees Celsius. All member countries commit to increase their energy efficiency, enhance environmental protection, and reduce greenhouse gas emission towards carbon neutrality.
Dr. Bui Quang Tuan also pronounced Vietnam's high demand for energy, which could be up to 10%-11% per annum, due to its current growth momentum. Although Vietnam's GDP growth rate in 2020 (2.91%) was ever the lowest since Doi Moi in 1986, the country remained one among the fastest growing economy in the world.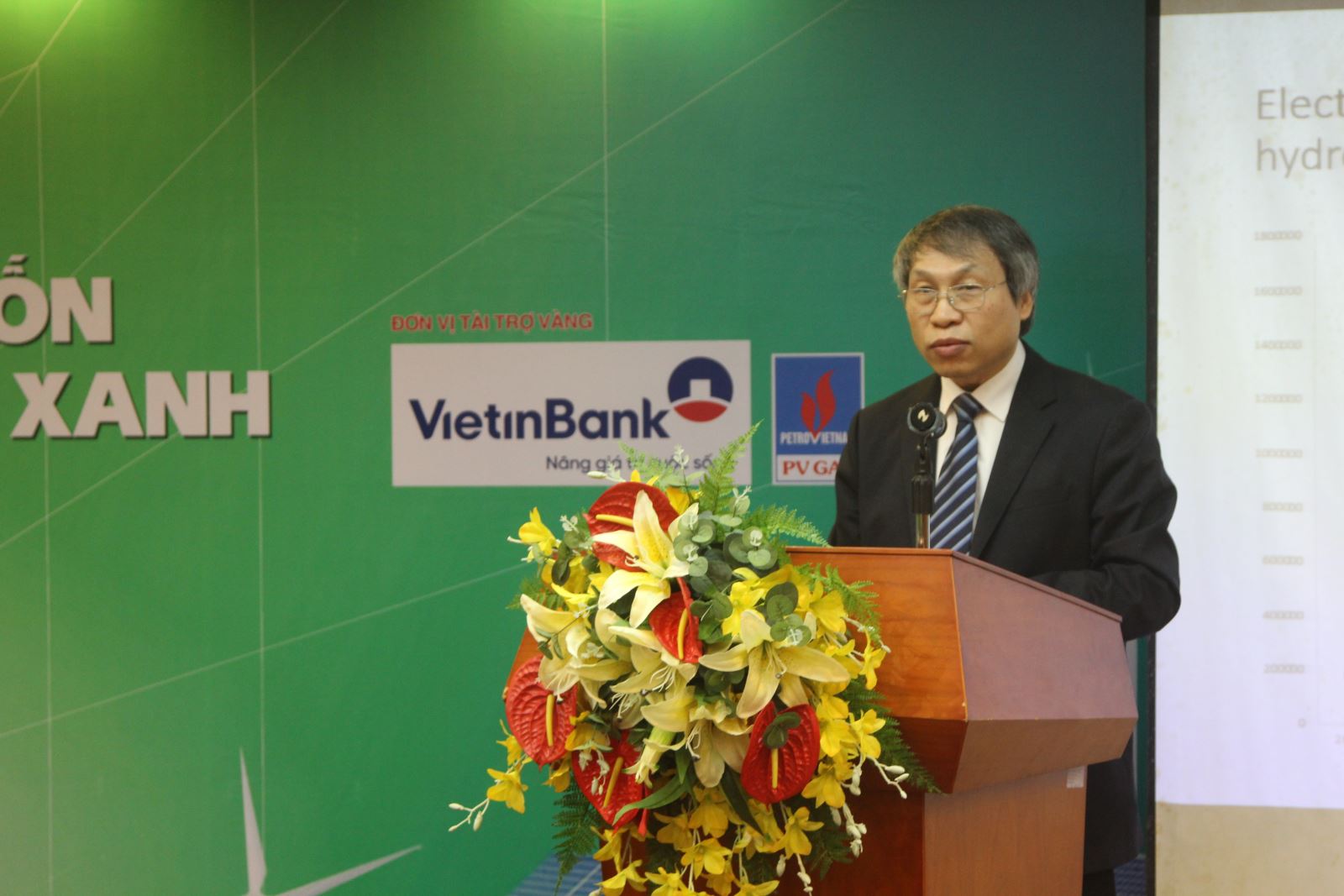 Assoc. Prof. Dr. Bui Quang Tuan, Director of VIE, opened the workshop.
The workshop comprised of seven presentations and the questions from participants focused mostly on current bottlenecks and problems in financing renewable energy projects.
Mr. Do Duc Quan, Deputy Director of Department for Electricity and Renewable Energy, Ministry of Industry and Trade (MOIT), said that the government had already issued decisions and documents for the development of renewable energy. The MOIT in particular had advised the Prime Minister for a promulgation of mechanisms to promote the growth of wind power, biomass power, solar power, and power generated from solid waste.
Serving the country's demand in the coming time, according to Mr. Quan, the MOIT would focus its policies on competitive bidding for higher fairness and transparency, on transmission infrastructure, storage systems, as well as the power dispatch and operation.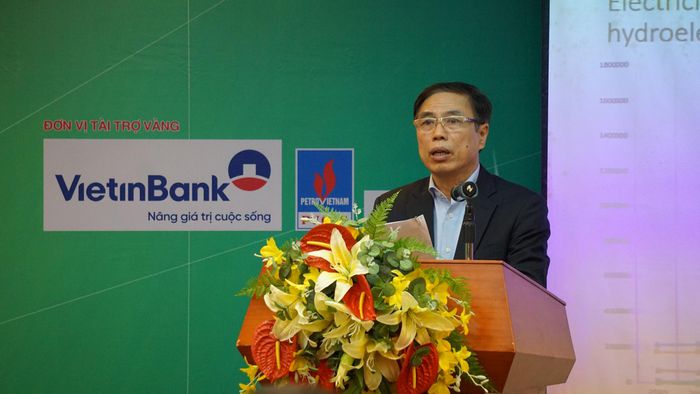 Mr. Do Duc Quan, Deputy Director of Department for Electricity and Renewable Energy (MOIT).
Mr. Nguyen Quang Huan, Chairman of Halcom Vietnam JSC, contributed at the workshop as a representative from energy business community. He affirmed the difficulties and issues in accessing financial sources for renewable energy projects, particular legal procedures. He listed more than 30 documents required for investments in the sector, which would take possibly one year for domestic investors and around two or three years for international partners to prepare.
In addition, it was also a challenge for domestic investors in accessing loans from commercial banks due to their limited financial capacity. Mr. Huan suggested that the MOIT and SBV should provide further guidance for enterprises towards increasing their financial accessibility.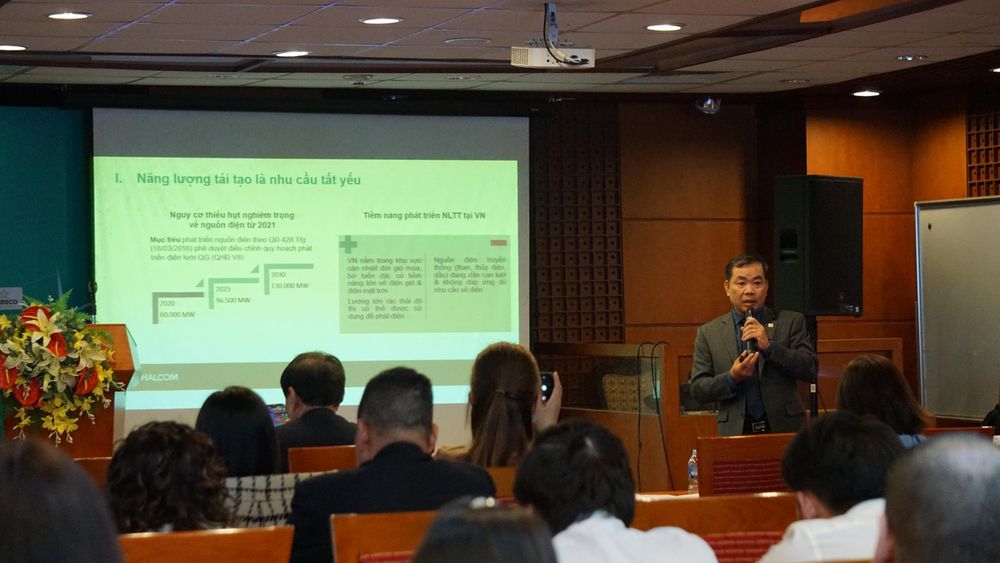 Mr. Nguyen Quang Huan, Chairman of Halcom Vietnam JSC.
From the perspective of commercial banks, the representative from VietinBank said the sector was a new field of investment in Vietnam despite promising opportunities for investors. The legal corridors, therefore, remained under completion, resulting in procedural difficulties in lending.
Moreover, many investors were restricted in experiences and capacity. Despite a current reduction of investment costs compared to the part, capital investment for a project is still enormous. Besides, there are many factors such as estimates of power output, project progress, project operation, power transmission, etc.
Ms. Pham Thi Thanh Tung, Deputy Director of Department of Credit for Economic Sectors (SBV) shared that investments in renewable energy were characterised with long payback period and high investment costs and risks. The appraisal process for renewable energy projects is highly technical and must follow strictly sectoral plans. Meanwhile, commercial banks mostly provide short-term loans, hindering borrowers/investors in the implementation of the projects.
The representative from VietinBank proposed a completion of the legal corridor for the sector in accordance with the development orientations of the power industry, more instructions and guidance regarding investment procedures and process. The SBV should promulgate specialized mechanisms for commercial banks in lending investors in the sector. A proper solution could be authorizing commercial banks to issue bonds as collateral assets for the energy sector to refinance enterprises/investors at preferential interest rates.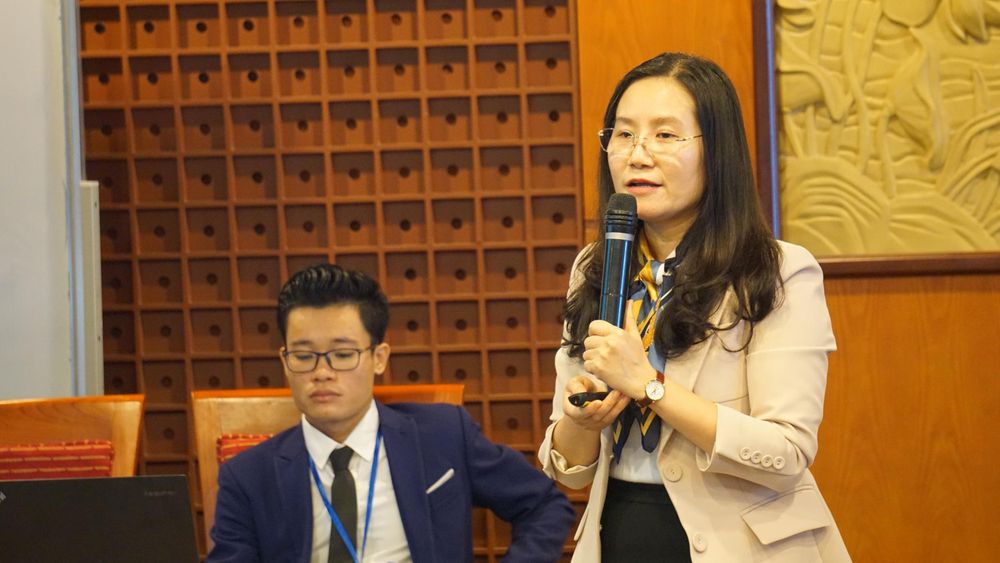 SBV representative at the workshop.
Source: https://vass.gov.vn/hoi-nghi-hoi-thao/Hoi-thao-khoa-hoc-1233