Announcement Workshop: Assessment Report on Economic Impacts of COVID-19 and Economic Stimulus Packages by the Vietnamese Government in 2020
1/14/2021 9:45:22 AM
The workshop was co-organized by Vietnam Institute of Economics (VIE) and Konrad-Adenauer-Stiftung (KAS) on December 2, 2020 within the framework of cooperation between the two institutions.
Mr. Peter Girke, KAS Country Representative and Assoc. Prof. Bui Quang Tuan, VIE Director co-hosted the workshop. Distinguished guests at the workshop included Assoc. Prof. Nguyen Hong Son, Deputy Head of PCC Economic Commission; Assoc. Prof. Dinh Van Nha, Deputy Chairman of NA Finance and Budget Committee; Prof. Nguyen Quang Thuan, Vice Chairman of the Central Theoretical Council; Dr. Doan Hong Quang, senior economic expert from the World Bank Vietnam; and Assoc. Prof. Le Xuan Ba, Former Director of Central Institute of Economic Management. The workshop also received the representatives from government agencies, research institutes and Vietnamese and KAS experts.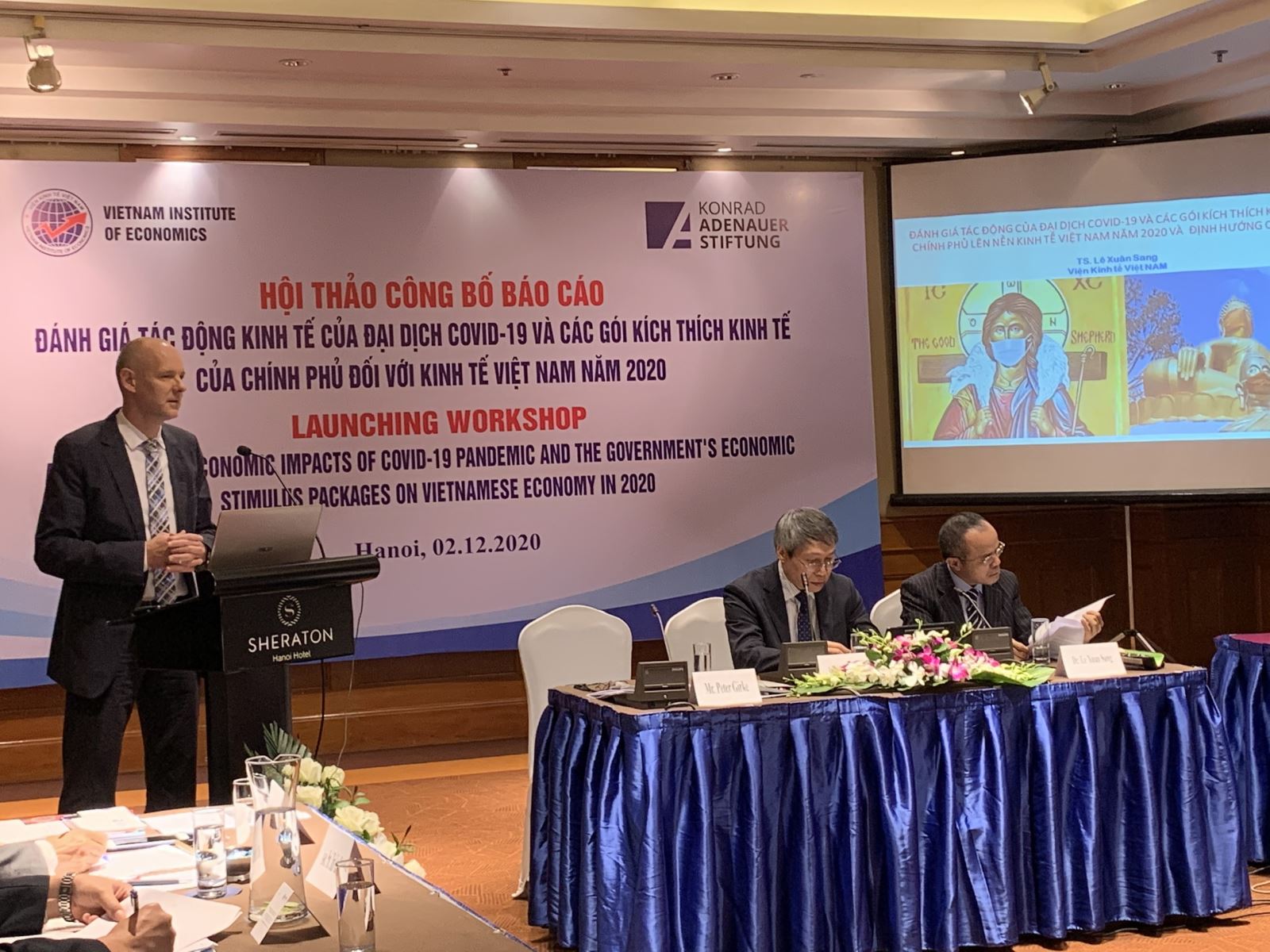 Mr. Peter Girke spoke at the workshop.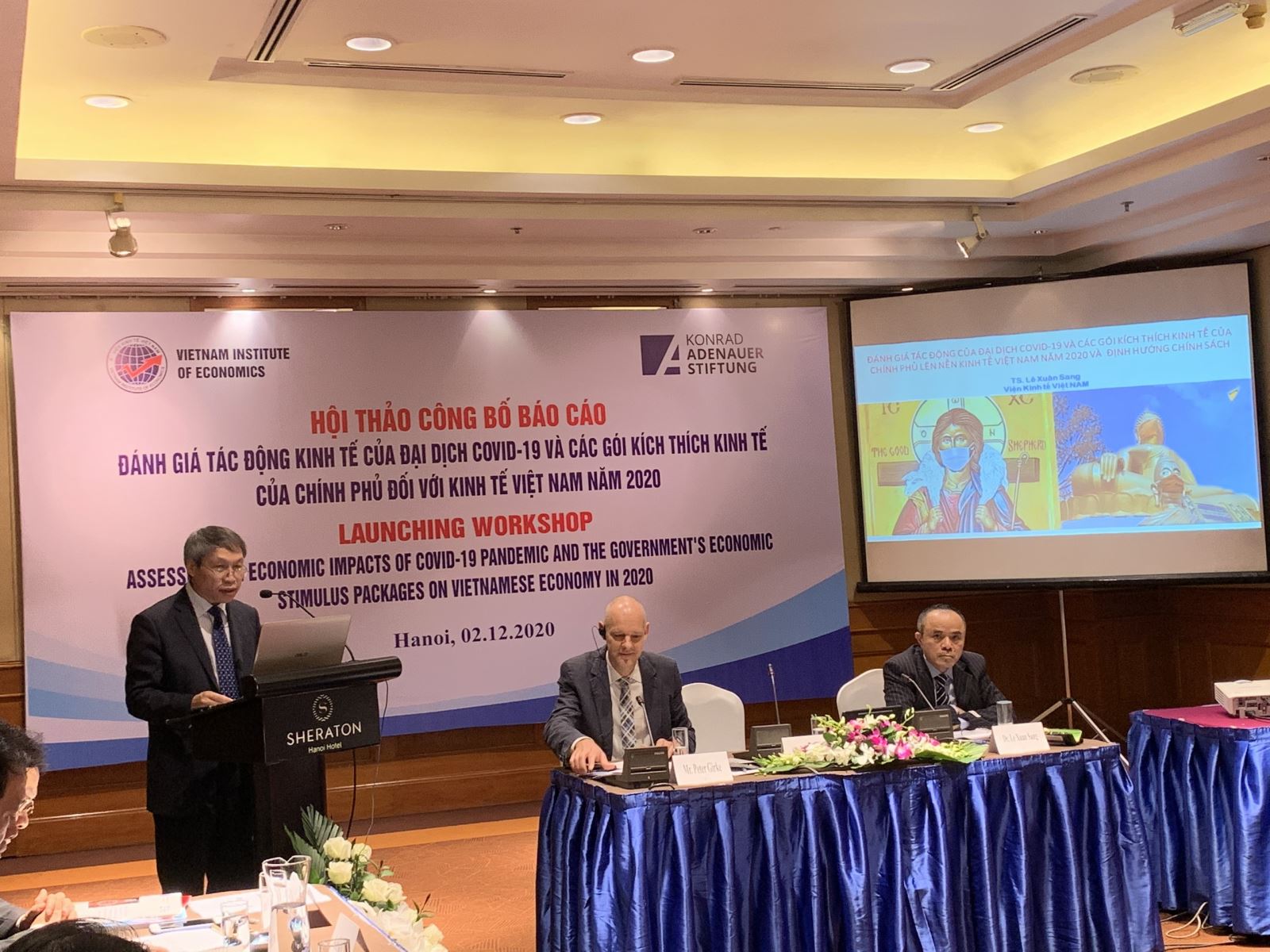 Assoc. Prof. Bui Quang Tuan delivered the opening remark.
After Mr. Girke's welcome speech and Assoc. Prof. Bui Quang Tuan's opening remark, Dr. Le Xuan Sang, VIE Deputy Director and lead of the research team, presented key findings of the assessment report on economic impacts of COVID-19 and economic stimulus packages by the Vietnamese government in 2020.s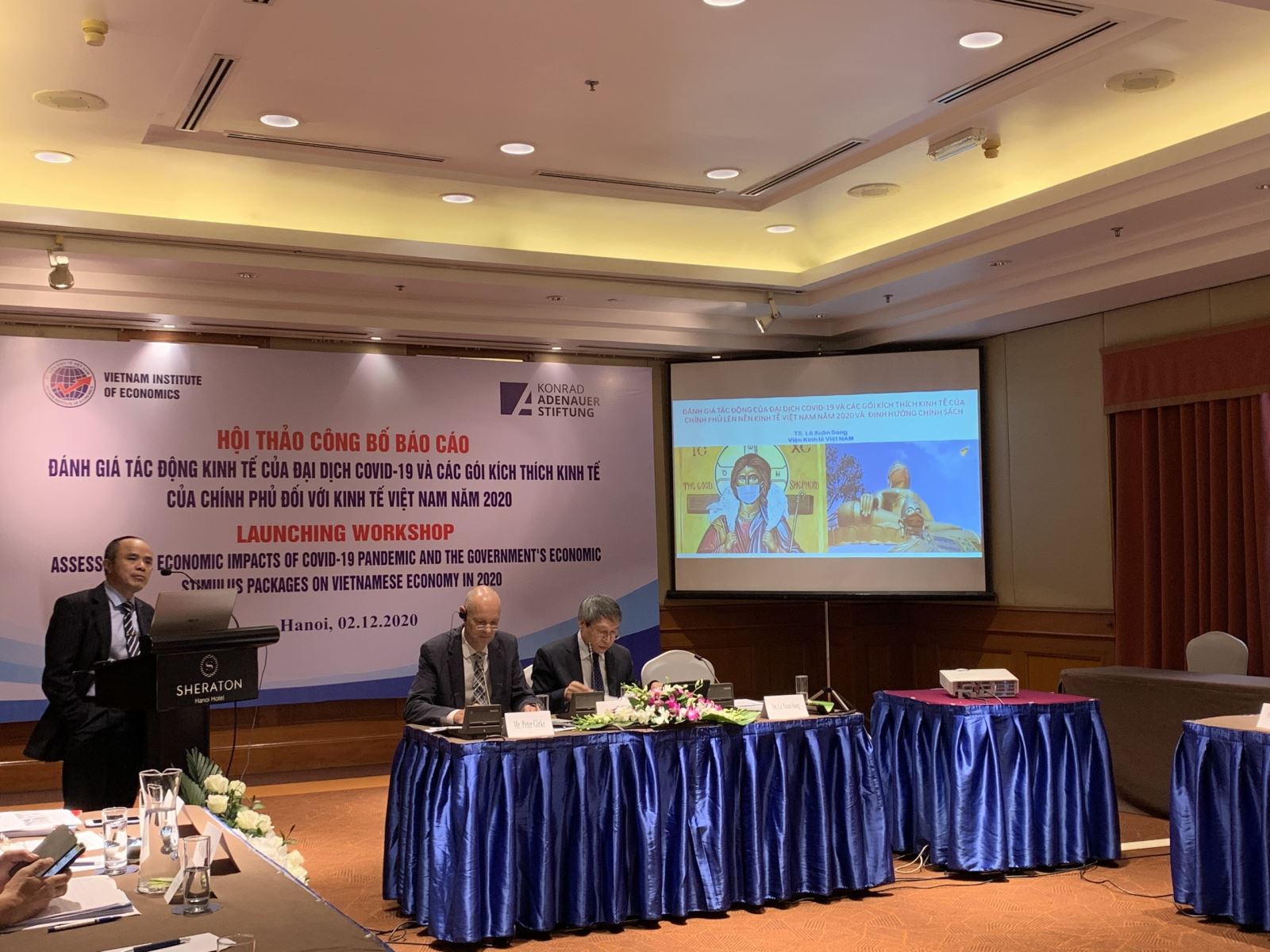 Dr. Le Xuan Sang, lead of research team, presented at the workshop.
Participants contributed their comments after the presentation. Assoc. Prof. Nguyen Hong Son appreciated the findings in the report and suggested some long-term impacts of COVID-19 for the team to consider. He also questioned about further details of solutions introduced in accordance with different scenarios in order to propose more comprehensive policies for longer-term economic development in the current setting.
Assoc. Prof. Dinh Van Nha commended the team for their efforts and contributions and suggested also a comparative perspective between the COVID-19 outbreak and other economic and financial crises. He advised the team to have a systematic review of medical measures and consequences of applying such measures.
Assoc. Prof. Dinh Van Nha contributed comments at the workshop.
Assoc. Prof. Le Xuan Ba agreed that stimulus measures should focus on large enterprises of high competitiveness in order to create development breakthroughs. Concurrently, the Vietnamese government should develop a more favorable business environment for firms rather than providing them with supports.
Some other participants proposed recommendations for the team's future research.
Assoc. Prof. Bui Quang Tuan thanked the audience for their presence and comments for the team's finalization of their report.