Seminar on COVID-19's Early Effects on the Vietnamese Economy and Policy Responses
11/21/2020 3:07:38 PM
The workshop was held on May 27, 2020 by Vietnam Institute of Economics (VIE). Academic guests at the workshop were the leaderships from VASS research institutes, including Assoc. Prof. Dr. Nguyen Chien Thang (Director of Institute for European Studies), Assoc. Prof. Dr. Pham Quy Long (Deputy Director of Institute for Northeast Asian Studies), Dr. Phi Vinh Tuong (Deputy Director of Institute for World Economy and Politics), and representatives from ministries (MPI, MARD) and experts in tourism and public health. From the VIE side, there was the presence of Dr. Le Xuan Sang, Deputy Director and other researchers.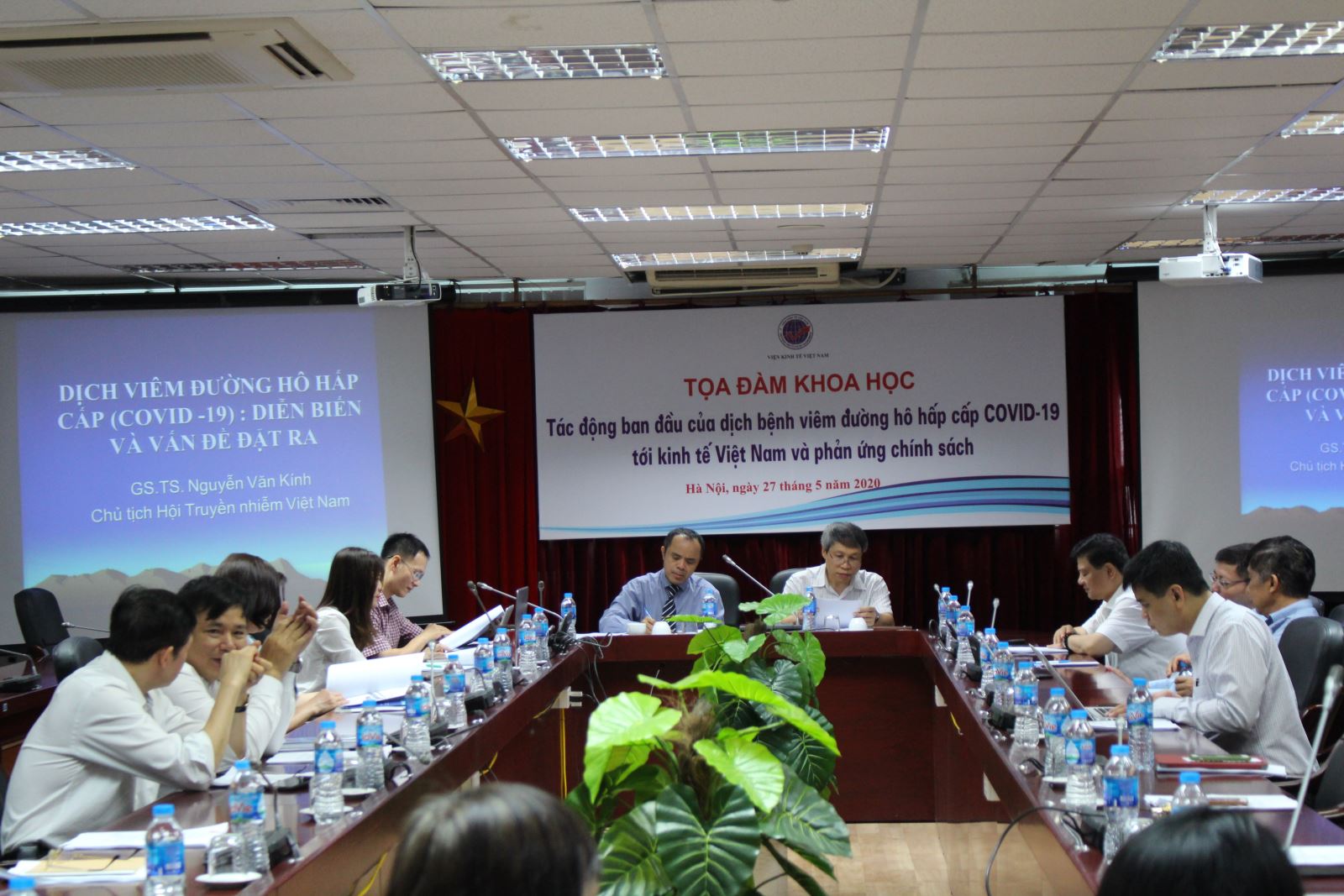 The seminar was co-chaired by Assoc. Prof. Dr. Bui Quang Tuan and Dr. Le Xuan Sang.
Dr. Tuan said in his opening speech that the seminar aimed for knowledge sharing and solution brainstorming and recommendations. He expected the involvement of both health professionals and economists would result in a multidimensional debate on the economic prospects and different recovery scenarios (V-, L-, or W-shaped), as well as practical suggestions for solutions for economic issues and effective control of the COVID-19 in Vietnam.
The seminar was organized into two sessions of four presentations with Q&A parts after each.
Session 1 began with the presentation on "COVID-19: Progress and concerns" delivered by Prof. Dr. Nguyen Van Kinh, President of Vietnam Association for Infectious Diseases. The speaker focused on three main points: the situation and nature of the disease, responses, and rising concerns. According to Prof. Kinh, the global progress of COVID-19 remained complicated. In China, infections were confirmed in all provinces. Among ASEAN countries, Indonesia recorded the highest numbers of COVID-19 cases and fatalities. Porf. Kinh saw Vietnam as a bright spot in the world's map of the pandemic for its successful control of the disease thanks to its past experiences in dealing with SARS.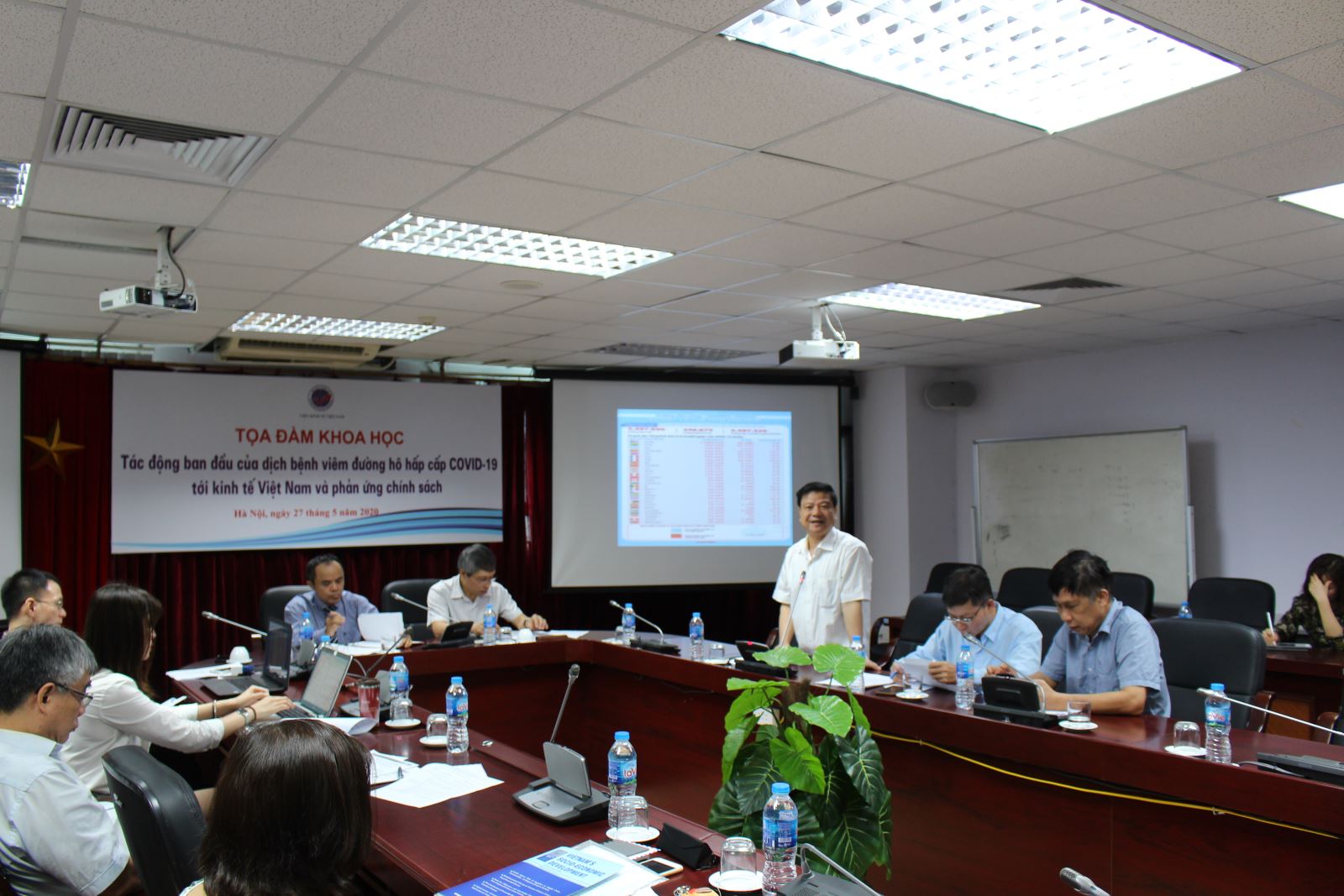 Prof. Nguyen Van Kinh presented at the seminar.
The second presentation was "COVID-19 effects on the Vietnamese economy: Impact channels and policy responses" by Dr. Pham Sy An, Head of Division for Macro Economics and Institutions, VIE. The speaker provided an analysis of the pandemic situation in Vietnam and its impacts on the country's economy and policy responses. According to Dr. An, the textile industry suffered severe consequences from the epidemic. Policies adopted by countries in the world, though varied, shared similarity in their structure with Vietnam's. Vietnam so far had launched four major policy packages but their efficacy remained in question, said Dr. An.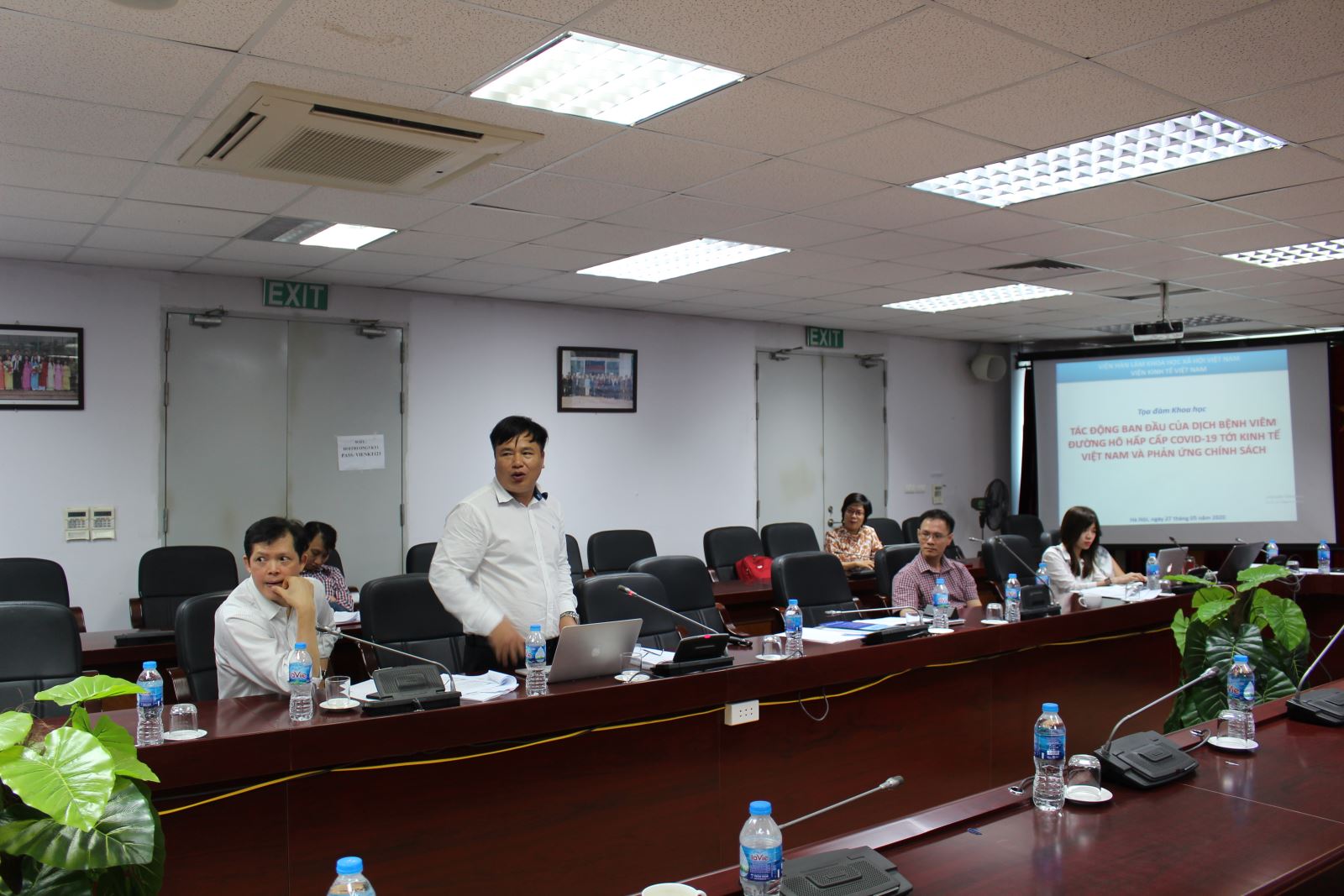 Dr. Nguyen Anh Tuan, Director of Institute for Tourism Development Research, Vietnam National Administration of Tourism.
Entering Session 2, Dr. Nguyen Anh Tuan, Director of Institute for Tourism Development Research, Vietnam National Administration of Tourism presented "Impacts of COVID-19 on Vietnam's tourism and policy implications", in which he offered an analysis of the global and domestic current contexts, actions from the tourism industry, and provided policy recommendations thereby.
Another presentation on "COVID-19 impacts on Vietnam's agriculture and rural areas" was delivered by Dr. Truong Thi Thu Trang, Center for Agricultural Policy, Institute of Policy and Strategy for Agriculture and Rural Development. The speaker informed about a crisis due to demand-supply mismatches as social distancing caused the stagnation of production, drop in consumer spending, and interruption of domestic supply chain. There were also risks to agricultural and rural livelihoods (e.g., African swine fever, drought in the Mekong delta, wildfire, and COVID-19 related risks). Nevertheless, the year 2019 had witnessed important breakthroughs in agricultural restructuring. Dr. Trang referred to the forecasts by International Monetary Fund (IMF), the Economists, Food and Agriculture Organization (FAO), and Ministry of Planning and Investment (MPI), which all emphasized the importance of sustaining international trade in farm produce for its high frequency of cross-border transactions.
The last presentation in Session 2 was "COVID-19 impacts on the global economy and policy responses by Dr. To Thi Anh Duong from VIE. Her speech focused on economic impacts of the COVID-19 pandemic at a global scale (GDP, trade, employment) and policy responses (from G20, G20+, China). An analysis of such impacts was based on a context diagram (i.e., increased trade costs), demand-supply impact channels (negative productivity shocks) and policy responses. Dr. Duong indicated a sharp decline in both the global business confidence index and trade growth in Asia. Besides, the issues of budget deficit and public debt were much more serious than in the 2007-2008 financial crisis. Both employment and wage income fell in all regions of the world.
After the three presentations, the seminar entered the discussion with comments and thoughts shared by the audience.
Dr. Le Xuan Sang concluded the seminar, stating that the impacts of the pandemic were intricate and diverse and would take time to observe and examine. Policy responses therefore should be carefully taken into account and practically designed to avoid mistakes. Reopening the world economy would create opportunities and catalysts of change but less challenges for Vietnam to take a shortcut for development and catch up.