Workshop on "FDI attraction under Resolution 50-NQ/TW: Opportunities, challenges and policy orientations of Haiphong City"
12/3/2020 6:53:22 PM
The aim of the workshop is twofold: (i) providing an assessment of achievements and limitations in FDI attraction in both Vietnam and Haiphong; and (ii) revisiting the opportunities and challenges for FDI attraction following the Politburo's Resolution 50-NQ/TW on perfecting institutions and policies and improving quality and efficacy of foreign investment towards 2030. The presentations and discussion focused on policy directions and solutions to attract FDI proactively and selectively in accordance with Haiphong's orientations for economic structure and sustainable development. It is also in line with the city's resolution on selective attraction of FDI.
Attendees at the workshop included VIE researchers, experts from Haiphong Center for Socio-economic Information and Research, and representatives from the city's relevant departments.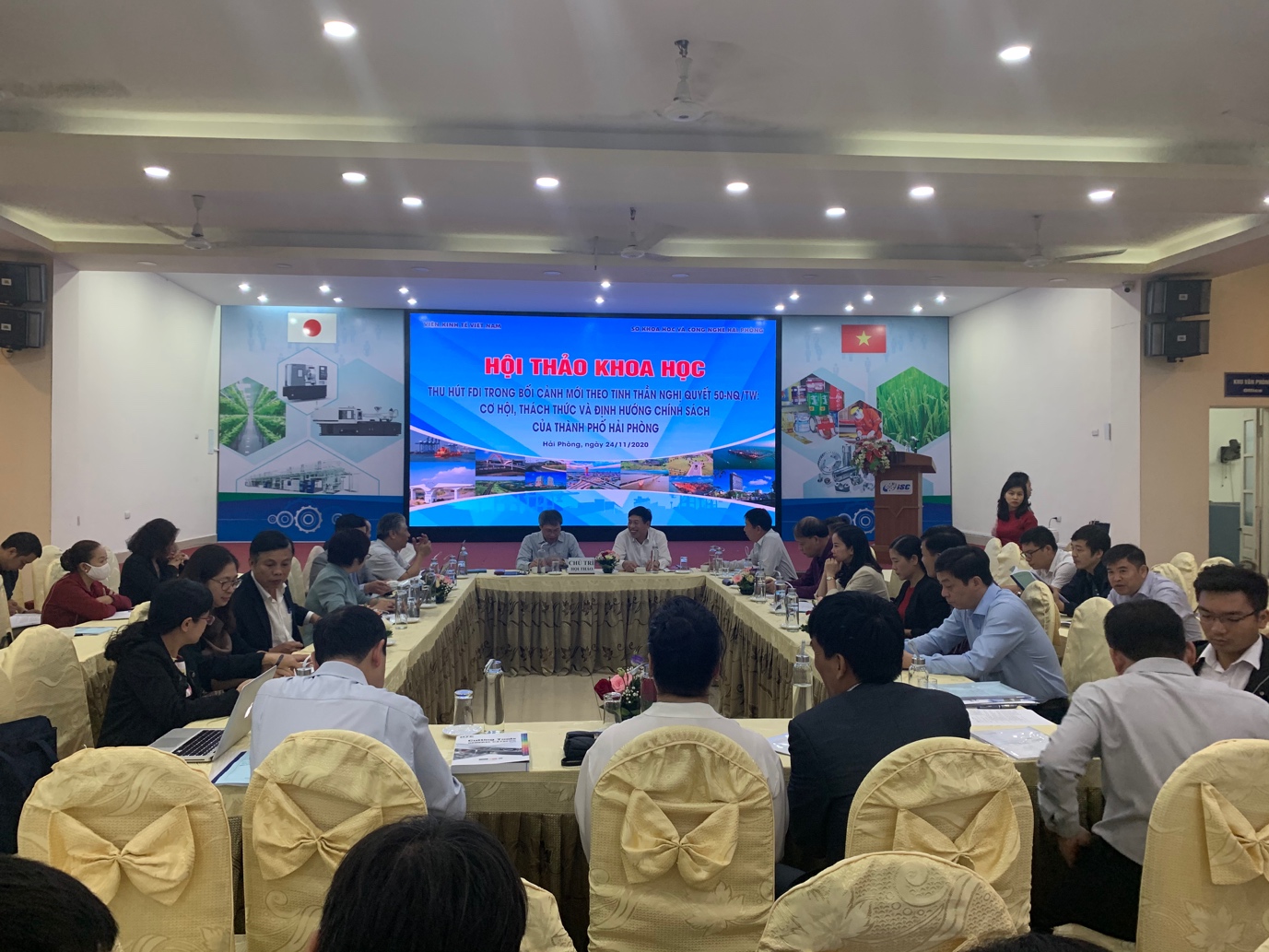 Workshop scenery.
Mr. Duong Ngoc Tuan, Director of DOST, delivered the opening remark. He admitted the changing domestic and international contexts that require the city's policy adjustments for FDI attraction, in favor of investment quality rather than quantity, aiming at promoting the local economy and supporting domestic businesses.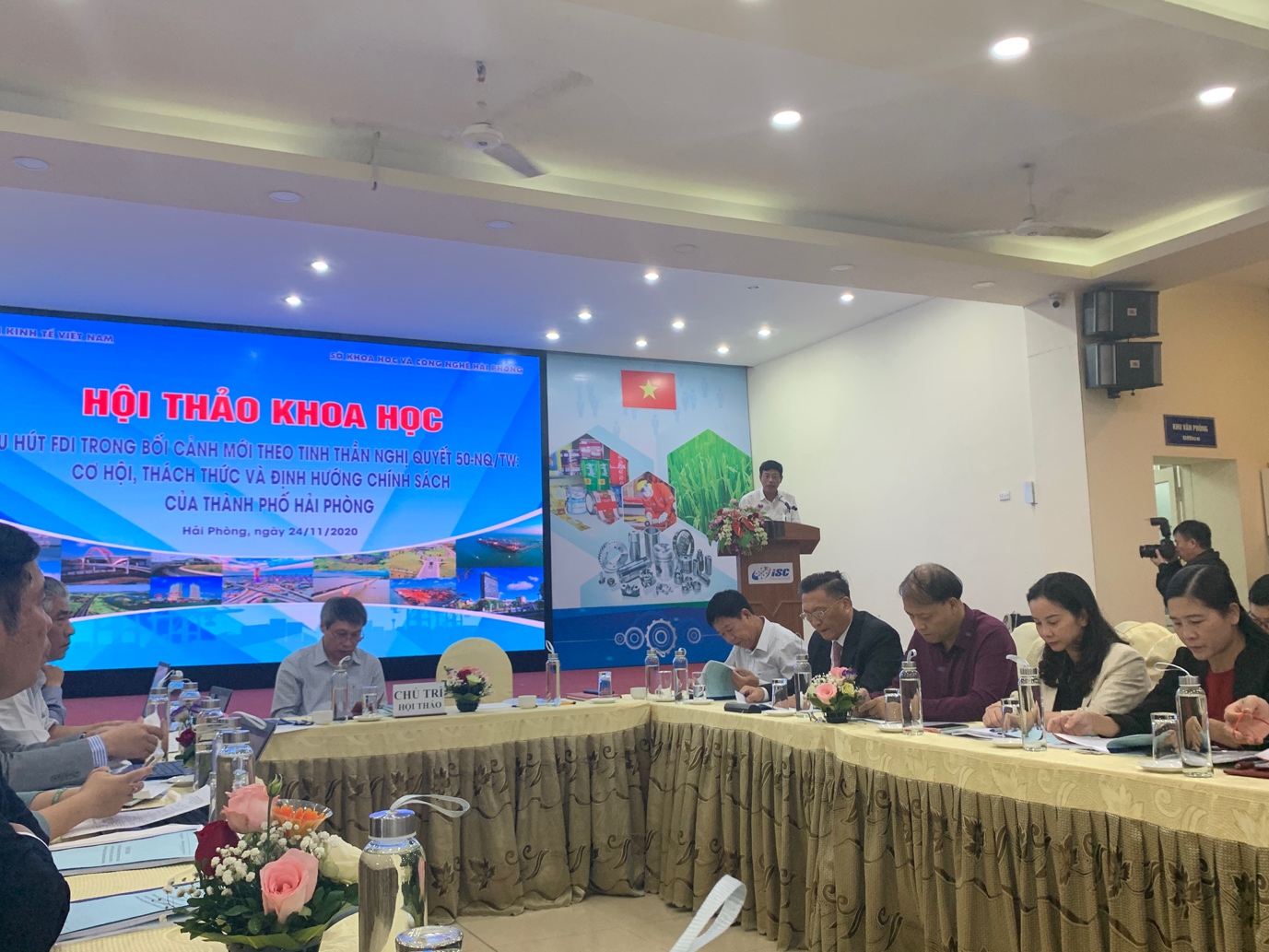 Mr. Duong Ngoc Tuan, Director of DOST, delivered the opening remark.
Assoc. Prof. Bui Quang Tuan, Director General of VIE, in his keynote address stressed on the current process of rapid globalization accompanied with nationalism and protectionism, leading to reduction of trade and investment. Globalization, however, would still prevail. The US-China trade war was also a race to dominate the world and the occurrence of the COVID-19 pandemic had disrupted the supply chains and stagnated production and consumption. As a result, there would be a wave for investment reposition and redirection and supply chain reorganization. Thus, he would like the experts and managers at the workshop to continue the cooperation and discuss ideas and suggestions for Haiphong and Vietnam also following the directions set in Resolution 50-NQ/TW and the city's policies.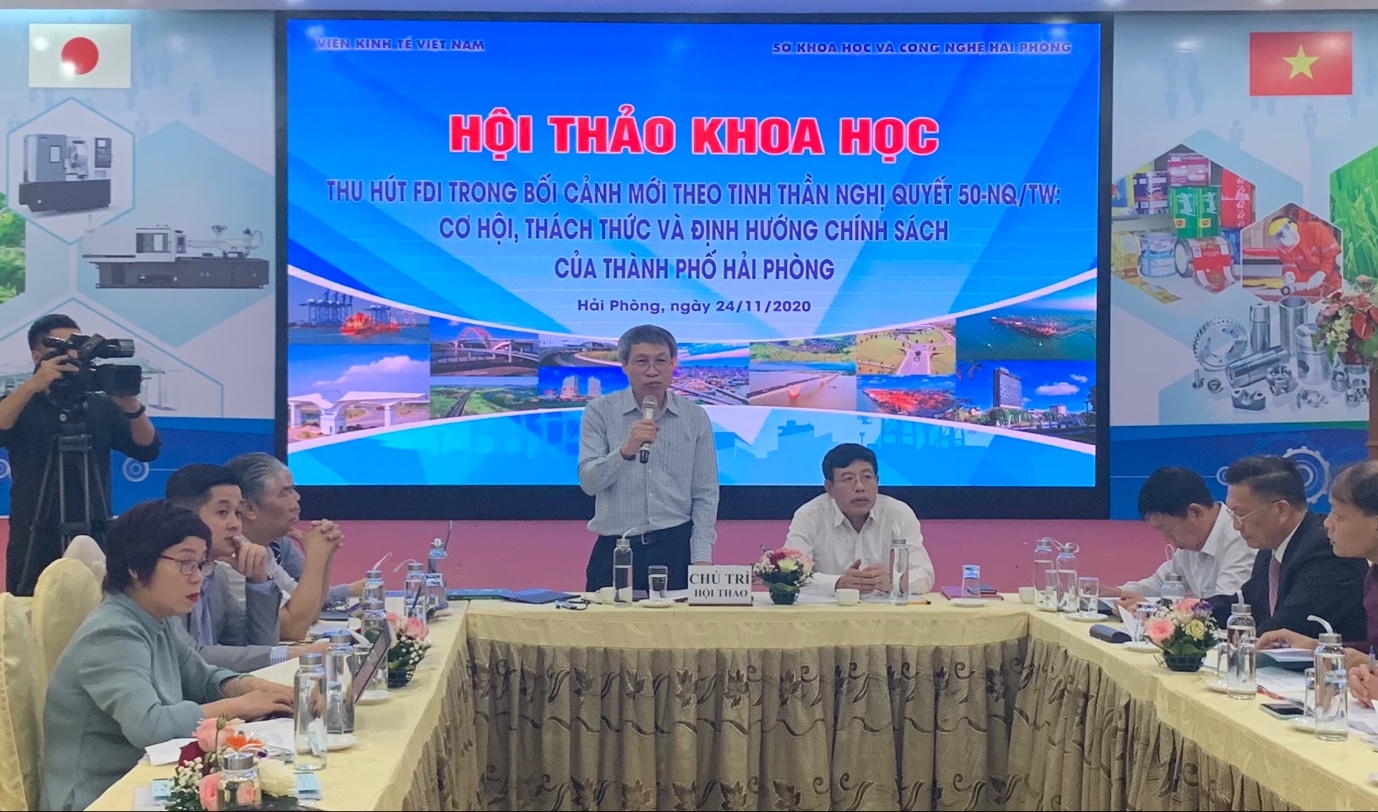 Assoc. Prof. Bui Quang Tuan (Director of VIE) delivered speech.
The workshop continued with the presentation by Dr. Le Xuan Sang, Deputy Director of VIE, on "Vietnam's FDI attraction in a volatile world: advantages, challenges and strategic directions for Haiphong". His analysis focused on FDI inflows from both supply and demand sides, from which he discussed further the advantages and challenges and provided policy suggestions for Haiphong in attracting FDI under currently new circumstances.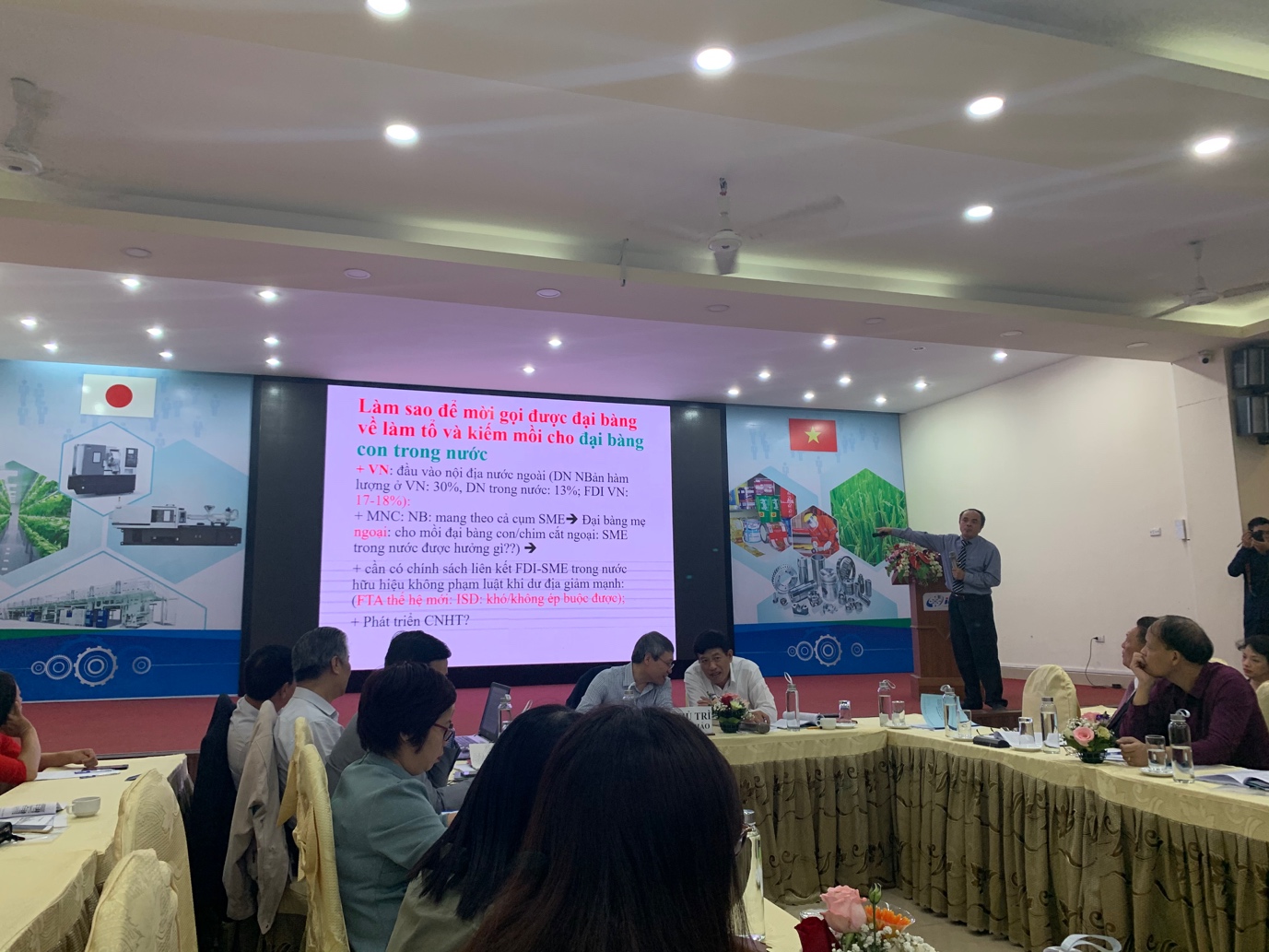 Dr. Le Xuan Sang, Deputy Director of VIE, at the workshop.
Dr. Nguyen Van Tung, Central Institute for Economic Management (CIEM), was the second speaker with the topic "Improving investment environment and enhancing national competitiveness towards high-quality FDI attraction in a new context". Dr. Tung reviewed Vietnam's process of institutional reforms for attracting FDI and relevant FDI statistics for the period of 1988-2020. He also looked at the new context with solutions for FDI attraction in 2021-2025, vision to 2030.
The third presentation delivered by Mr. Duong Dinh On, Deputy Director of Department of Labor, Invalids and Social Affairs (DOLISA), was about "Development of human resources for FDI attraction in the new development context". He reinforced the critical role of human resources in general and direct labor in particular for national and local economic development. Human resources, during the process of industrialization and modernization and international integration, had become the foundation for sustainable development and increased the competitive advantages of localities in FDI attraction.
Ms. Nguyen Kim Oanh from Haiphong's Department of Planning and Investment (DPI) was the last speaker with the topic "Creating a favorable business environment to attract FDI for Haiphong's socio-economic development". She presented some outstanding achievements, difficulties and limitations of FDI attraction in the recent years.
The discussion was contributed by Assoc. Prof. Dan Duc Hiep – Former Chairman of Haiphong City People's Committee, Assoc. Prof. Lê Xuân Bá – Former President of CIEM, and Mr. Bui Quang Hai – Director of Haiphong's Department of Industry and Trade. They also suggested policy directions and solutions towards attracting high- quality FDI.